Spring fishing report for Saint Augustine, Florida- 2016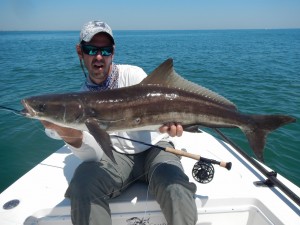 Spring is coming early this year. Temperatures are in the 70s and it is sunny out. This weather is the reason millions of people move to Florida each year. It's also why so many species of fish call Florida their home.
   As the water warms up the fish will become very active. The mullet already started to show up in the inshore waters. The big predator fish will be showing up right behind them.
   We have some amazing coastal fishing during the spring. We have Cobia and Tripple tail starting to show up off of our beaches in April. They are following the manta rays which are following the warmer water. They love hanging around the 72° mark. Cobia are a very fun fish to target off of the beaches. They are usually 1 to 2 miles off of our coast as they are migrating to the north. They can grow over 50 pounds and are exceptional fighters. They are usually site fished hanging out on the backs of the giant manta rays. A well placed Z man heroz bait will usually not get refused. You can also target them fly fishing. Make sure you have a 10 to 12 weight fly rod because they put up a great fight. Also while you are out there keep an eye out for Tripple tail. These are brown flat looking fish that have big fins that look like they have three tails. They are usually hanging out near structure such as a crab trap float or trash floating. They are easy fish to get to bite once located. I love throwing a Z man shrimpz on a popping cork as well as shrimp patterns if I am flyfishing. We usually have a month or so to target these two fish and then the Tarpon, Spanish mackerel , sharks and Bonita will roll right behind them.
Read More→